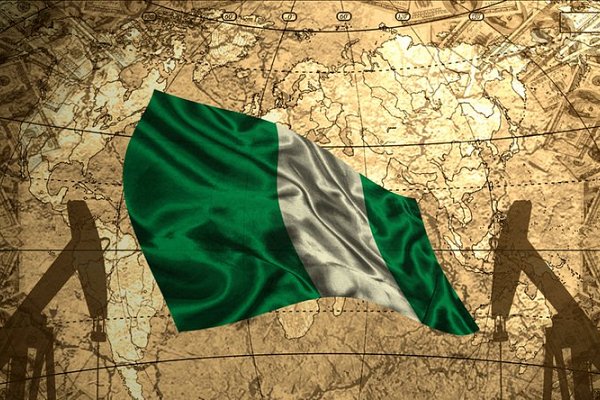 The price collapse of "black gold" locked Nigerians into their economy. Now, "digital gold" is providing some Nigerians with a way out.
Only three years ago, crude oil cost over $100 a barrel. But that peak came tumbling down. Throughout 2014 and 2015, oil prices took an almost unprecedented plunge to the $30 range, and is currently trading around $50 a barrel. As the lifeblood of Africa's largest economy, Nigerian income from exports plunged with it.
Faced with dwindling foreign currency reserves, Nigeria's central bank was quick to impose capital controls. Whole industries were banned from importing goods; the Nigerian president wanted businesses to buy their products from domestic suppliers. Instead, this policy led to widespread shortages of raw materials, machine parts and supermarket products. Additionally, foreign currency–denominated Nigerian bank cards had strict spending limits imposed, preventing Nigerians from shopping abroad or paying overseas school fees.
Nigeria initially refused to devalue its currency, the naira (NGN), which was pegged to the U.S. dollar. However, that led to black market rates for U.S. dollars, increasing to levels almost double that of the official figures. As of June 2016, the naira exchange rate was finally allowed to float. As a result, the national currency fell by about 40 over the last year, according to official figures.
Perhaps unsurprisingly, Bitcoin is gaining ground.
Tim Akinbo is a 35-year-old software developer and Bitcoin enthusiast from Nigeria, and the only person in West Africa running a full node.
"There's been quite some interest in bitcoin use in Nigeria recently," he told Bitcoin Magazine. "It's definitely growing. The devaluation of the national currency is an obvious reason, as bitcoin serves as a hedge in that respect. But companies have also started to use bitcoin for imports. Either through companies like BitPesa, or individually. And Nigerians in the diaspora also increasingly use bitcoin to send money to their family and friends at home."
This observation is perhaps best reflected in the increase in Nigerian trading volume on LocalBitcoins.com. This has regularly topped 400 million NGN ($1.2 million) per week, more than the entire eurozone combined. Moreover, the bitcoin exchange rate even reached some 500,000 NGN ($1,600) on Nigerian exchanges recently; similar premiums were previously seen in other countries faced with capital controls or monetary woes, like China and India.
Other figures show similar trends. Of all countries, Nigeria tops the Google trend charts for most "Bitcoin" searches. Asked by Bitcoin Magazine, several wallet providers — including Mycelium, Bitcoin Wallet, Breadwallet and BTC.com — reported significant relative growth in downloads from the African country: new installs in some cases increased around 2000% since October. And as another indicator of success, Africa-focused Bitcoin startup BitPesa secured a $2.5 million funding round from leading venture capital firms only last week.
Alejandro De La Torre is the business development manager for Bitcoin wallet provider BTC.com, and speaking to Bitcoin Magazine he confirmed this sentiment.
"Wallet downloads from Nigeria were only topped by the United States and India. For a developing country that's not known to be very tech savvy, with relative high illiteracy, and that has less inhabitants than countries like China, Indonesia or Brazil, that had us very surprised," De La Torre told Bitcoin Magazine. "We're now in the process of setting up a meetup in Lagos, which already has 130 members signed up in three weeks. I think Bitcoin interest in Nigeria is growing exponentially."
The MMM Ponzi Scheme
Though, it seems there's also a significantly more depressing explanation for the Bitcoin surge.
Unfortunately, a largely illiterate populace hit with an economic downturn proved a fertile breeding ground for large-scale Ponzi schemes. The most famous of these, MMM, swept through several African countries over the past couple of years, including South Africa, Zimbabwe and — indeed — Nigeria. Similar, perhaps even bigger schemes, have been "successful" in Nigeria, too.
"People were promised incredible returns on their investment if they'd put their money in these pyramid schemes," Akinbo said. "And a couple months ago, some of these schemes introduced the option to fund and receive payments with bitcoin. Unfortunately — or fortunately depending on how you see it — a number of these schemes went bust toward the end of the year. A lot of people lost money in these schemes, and the few Ponzis that survived aren't doing so well."
Perhaps unsurprisingly, financial regulators in Nigeria have started to take note as well. In a letter from the Nigerian central bank, addressed at financial institutions and virtual currency operations, bitcoin is listed in one breath with MLM scheme OneCoin. The central bank warned it may "address the Money Laundering / Terrorism Financing (ML/TF) risks associated with [digital currency] exchanges," in order to "protect the integrity of the Nigerian financial system."
Regardless, Akinbo remains optimistic.
"While these Ponzi schemes were bad news, they did expose many Nigerians to bitcoin for the first time. Bitcoin took a slight dip in trading volume and price but surprisingly continued to trade even after the demise of a number of the major schemes. I think we will see these Ponzi schemes disappear over time, while bitcoin might just stick around …"
---